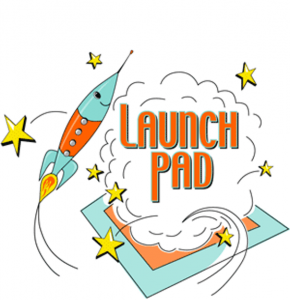 We are really sorry that we had to postpone Launch Pad for 18th March 2020. We will be in touch very soon about a new date. We appreciate that this maybe too late for some of you who are about to CCT, so you would be welcome to attend on the new date even if you have completed training.
We have put together the key take home messages from last year's Launch Pad and hope that these are helpful.
---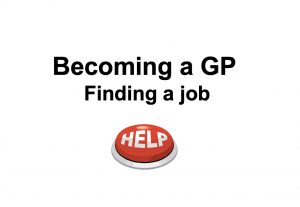 At the moment it's a buyers-market, don't be flattered and accept the first job offer that comes your way.
Things that might help you choose the best job:
Identify what your needs and values are e.g. a morning coffee with colleagues, working close to home, working in a small or very large practice, being in a practice where you can be involved in medical education, earning a lot of money etc. Then prioritise which of these are most important to you. You could do this in a tutorial with your trainer, by writing each need or values on a post-it and discussing which are the most important to you. Use these to identify where might be the right place for you to work.
Remember you are more likely to have job satisfaction if you experience an appropriate degree of challenge, your work has meaning, and you feel valued. Take a look at the section on 'work' to explore this more.
Most newly qualified GPs find their first post challenging while they consolidate their skills, so it's a good idea to pick a post where you feel well supported and part of the team.
Finding a job
Trainees usually find a job by word of mouth or thought locally placed adverts.
Other places to look include: BMJ.com, RCGP.org.uk, Pulsepracticejobs.com, gponline.com, LMC or CCG websites and e-newsletters.
Practices are often more flexible than their advert might imply.
Remember you can negotiate, but pick the issues that really matter to you.
---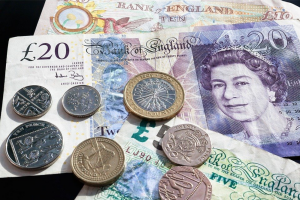 Personal Finances
These are the pearls of wisdom shared by our independent financial advisor.
It's not sensible to opt out of the NHS Pension Scheme without getting good advice.
Make sure you keep a copy of your annual Total Rewards NHS Pension Statement every year. You need to register for this.
Make a will (especially if you have children)
Make sure you have income protection (you definitely need this if you plan to work as a partner or locum, you should have sick pay if you work as a salaried GP on an NHS contract)
Consider if you need life insurance and/or critical illness cover.
Getting regular advice about your financial situation is a good idea. This should be from an advisor who is independent and understands GP finances.
It's a good idea to have at least two months income stashed away (in the bank not under the mattress) in case of an emergency.
Make sure you don't lose your entitlement to NHS employment benefits so seek advice if you plan to take time away from working for the NHS.
If you are thinking of applying for a mortgage or re-mortgaging it's sensible to do this while in employment, as if you move to a self-employed role the mortgage company will require 3 years of accounts. Less of a problem in a partnership but tricky if you are becoming a locum.
---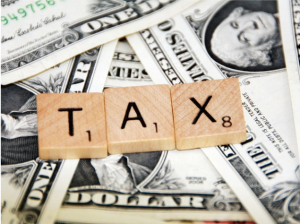 Tax
If you are a partner you are classed as self-employed.
If you work as a locum you are self-employed.
If you work as a salaried GP you are employed.
If you are self-employed:
The money you earn each month has not been taxed,
As a rule of thumb you should save half of this to pay your tax bill, which is currently paid in January and July each year. 
You will need to complete a tax return.
Most GPs use the services of an accountant. If you are a partner the practice will usually have an arrangement with a local accountant.
If you are employed your income is taxed, but you can still off-set professional expenses against tax. This can be done on-line.
---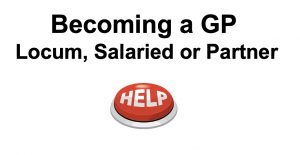 Working as a locum
Top tips from last year's session:
You need to be organised.
As a locum you are self-employed.
Use a separate bank card and account for your locum work.
File every piece of paper relating to your work, even if it's just in a cardboard box, you will need every receipt and invoice.
Many locums belong to a medical chamber- they book your work, manage your finances and offer support for a small percentage of your income.
It can be very isolating working as a locum, so consider doing this alongside a salaried post and certainly consider where you are going to get your support from.
Remember if you are self-employed you do not get any employee benefits like sick pay, holiday pay, and maternity pay.
The National Association of Sessional GPs has great advice for locums.
Working as a Salaried GP
It's a popular choice straight after CCT.
This could be a long-term or short-term career choice.
Before you start use the BMA contract checking service and online resources.
It's difficult to compare rates of pay because the workload and duties of each job varies so much, remember money is not everything, it's better to look at whether the post is right for you.
Some posts will allow you to do 'other things' like teaching within employed time, other practices prefer you to do this is your own time and be paid separately.

Join the National Association of Sessional GPs.
Working as a Partner
Up until 1997 the majority of GPs worked as GP partners. Since then it has become a less popular career choice, but last year at Launch Pad over half the participants aspired to becoming a partner within five years of CCT.
Although partnership brings with it a high workload and responsibility most GPs feel that they retain more autonomy and control than working in a salaried role.
As a self-employed doctor, things like holiday, maternity leave, sabbaticals, and disputes are governed by what is written in the practice partnership agreement. It's an important document.
GPs joining a partnership usually have to 'buy in' to the 'bricks and mortar' of the practice, the fixed assets and and the current account (cash flow). It's important to view and get advice about the practice accounts before joining a partnership.
Many doctors will work for a while as a salaried GP before being accepted as a partner. This give both parties time to change their mind without any financial commitment.

Before joining a partnership it's important to find out if there is scope to develop your interests, e.g. in education, politics, research, coil fitting, or minor surgery.
---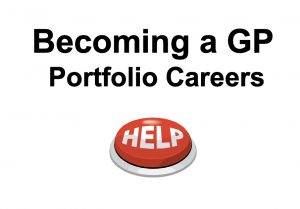 Portfolio Careers
This usually means combining different posts and roles within your weekly work. It could also mean having a varied career path.
For example:
Anne works as a GP Partner, teaches HYMS students, is a GP Trainer and outside her partner role is employed by HEE as a TPD.
Sam is a GP Partner and GP Trainer and within her partnership role is involved in research.
Lesley is a salaried GP and is also employed by a Drug and Alcohol service to provide medical care.
Julie works on the Retainer Scheme and is a tutor for HEE.
Jim is a salaried GP, works for the GP OOH service and does locums in A+E.
Sally is as GP Partner, and is also employed by the CCG to help run the RSS service.
Chris started work as a GP Partner, but now works as a Salaried GP, GP locum and does mental health assessments.
There are many ways in which GPs use their skills, either in paid employment or voluntary work. Most positions are found by word of mouth or the GP creating an opportunity to pursue an area of general practice they feel passionate about.
---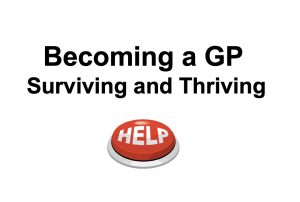 There is a whole section on the website with evidence-based ideas and practical strategies for helping you survive and thrive and enjoy a life-long career.
Here are a few important thoughts:
Know your strengths and play to them.
Aim to work with people who enable you to feel part of something bigger than you and your individual work.
Be kind to yourself, your colleagues and your patients.
Ensure you take steps to actively managing your work-life balance and workplace stress.
Think about how you will gain support when you leave the scheme, e.g. continuing to meet in a PEAS group (small learning group), or joining the RCGP First 5.
---
Things you could do in your remaining time in training or tutorial time.
Discuss the reasons why you and your trainer work.
'Play' the priorities in work post-it game (described above)
Read through your trainer's partnership agreement.
Ask to look at your practice's accounts.
Talk to the finance or practice manager about how the practice manage partner's tax.
Talk to salaried GPs and locums at your practice about their role, contract, joys and concerns.
Make sure your CV is up to date and ask two senior colleagues to act as a referee.
Make a list of things you need to do before your CCT.
---
Remember the NHS is a complicated place to work, and General Practice is a demanding job, it always was and always will be, but there are lots of opportunities to find enjoyable work and make a difference.
We look forward to you completing your CCT for General Practice and welcoming you to,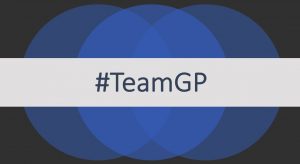 Thank you so much to the following organisations who kindly provided sponsorship 
BMA, Chase De Vere Independent Financial Advisors, Wesleyan Personal Finances, The Medical Defence Union,
The Medical Protection Society and the RCGP
---
Created March 2020 
---