The UK has reached a sobering anniversary. It is a year since Boris Johnson announced the first lockdown in March 2020.
As we approached this milestone, we have found ourselves looking back over the past year with mixed emotions. We are sure many of us are doing the same – though we have each experienced the pandemic very differently, with our personal highs and lows, the nation shares some powerful, collective memories of the COVID pandemic.
We remember our naïve pre-pandemic selves with the humour and pain that hindsight brings – could any of us have imagined what the year would bring? We have become accustomed to the routine donning of face-masks, we have navigated the confusion and isolation of social-distancing and lockdowns, and we have marvelled at the global vaccination efforts.
In light of this anniversary, we wanted to produce a chronological story of art that represents both the scientific and emotional dimensions of the pandemic. The most memorable of last year's artwork might be the rainbow street-art which appeared worldwide early on in 2020. The image of the rainbow celebrates the hard work of healthcare professionals and essential workers and reminds us of our dependence on their efforts. For us the colourful street-art like the image below was a powerful reminder of the specific time they began to emerge – they provided hope and beauty in the fear and uncertainty of the first lockdown.
We hope our collection will help clinicians reflect on the year, in teaching and for themselves.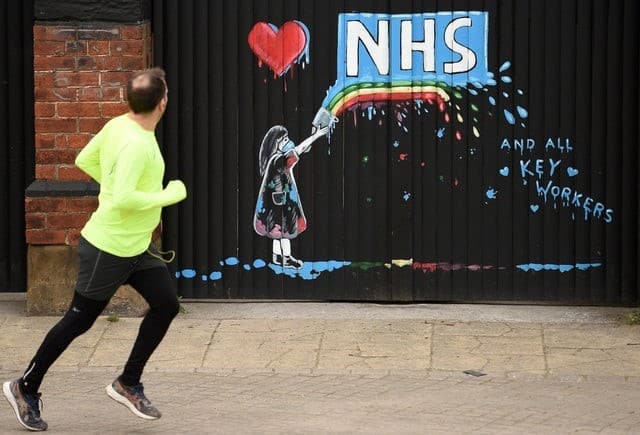 By Nicola Gill and Beth Jakeman