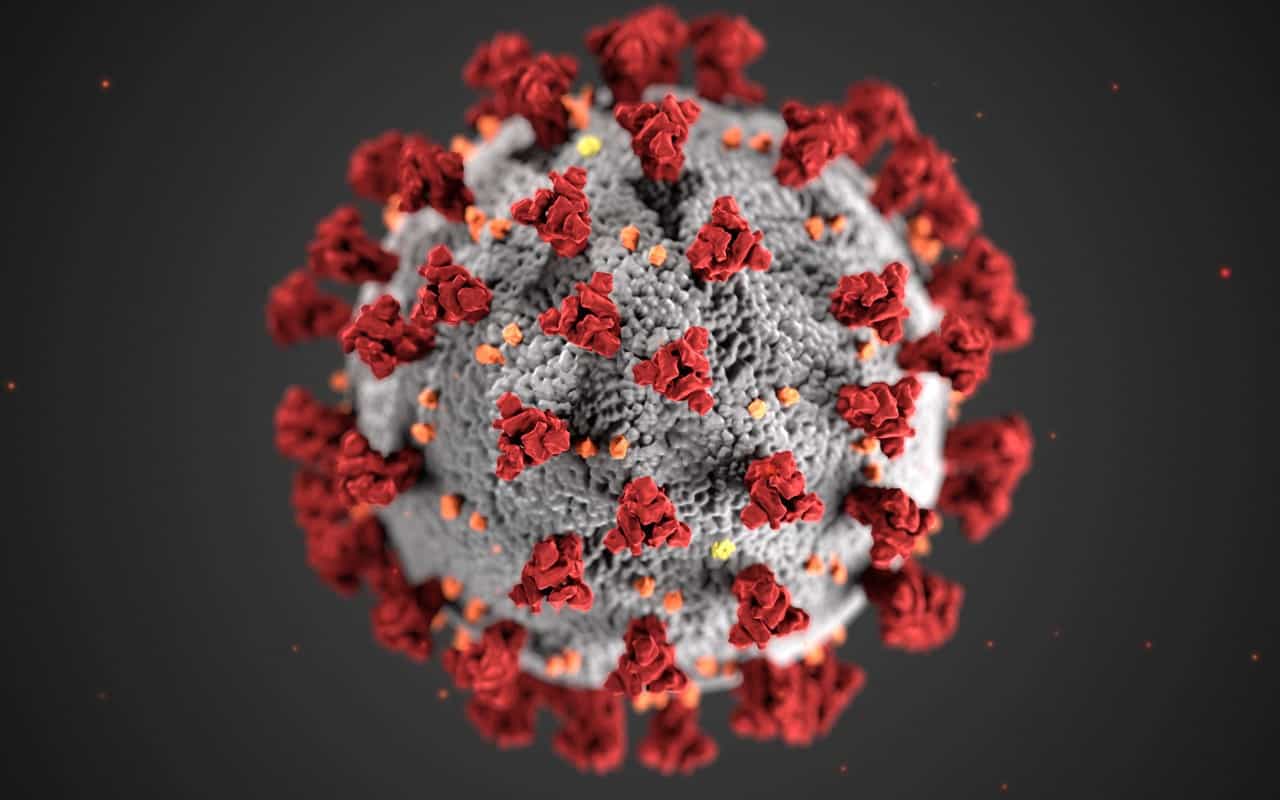 ---
Pre-Covid
---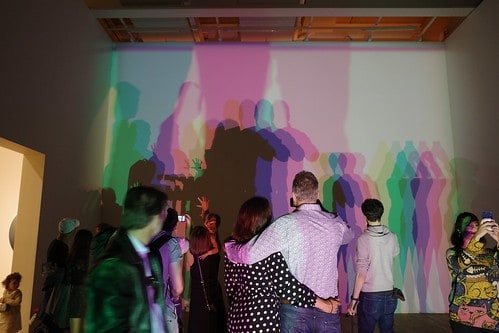 Eliasson's piece was created by the gallery-goers themselves, who cast overlapping coloured shadows as they mingle together. This kind of community-based art is not currently possible.
Some of the artworks featured in this timeline address the loss of community we have suffered, and imagine new ways of forming connections.
What memories do you have from pre-Covid life?
What do you miss?
Thank you Philippa Perry for introducing us to saudade, a Portuguese word for the sense of longing you experience for something lost. The feelings of saudade are expressed in the song and music of 'fado'.
What do you feel saudade for?
The art in this timeline has been created in response to the emotion associated with the pandemic as a means to process and share the experience.
---
March 2020
---
In March we were all faced with a new reality.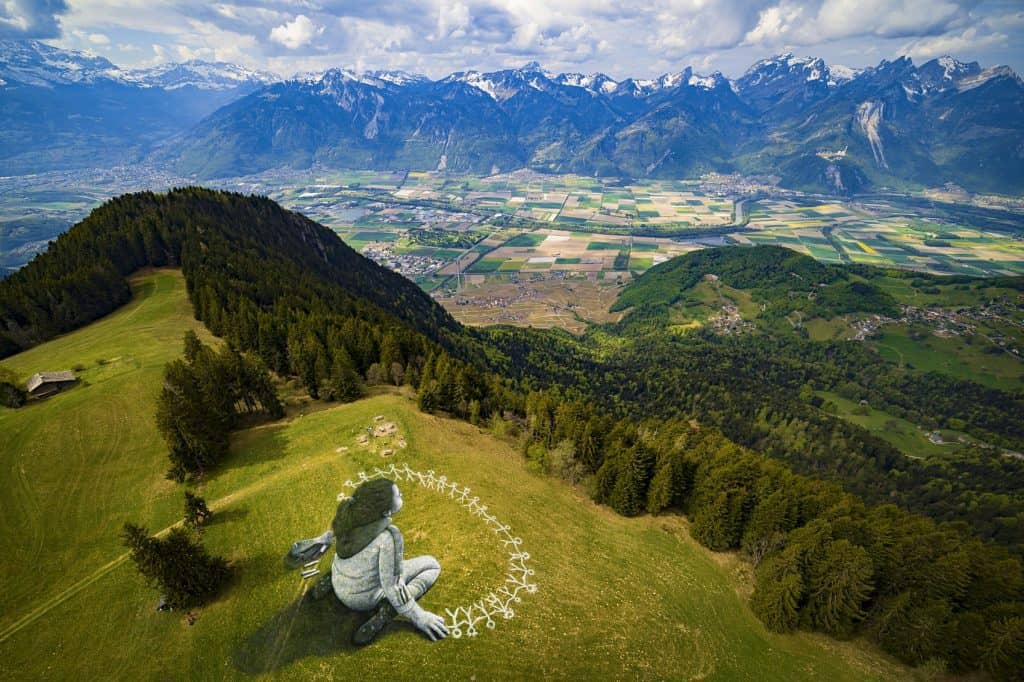 French artist Saype says his new work was inspired by COVID 19 and 'evokes the building of a world with more solidarity and more humanity'. The fresco covers more than 3,000 square feet in the Swiss Alps.
What thoughts and feelings does this image evoke in you?
---
April 2020
---
Throughout April every Thursday night people took to the streets to clap for the NHS, images of the NHS appeared in street art, and people posted pictures of rainbows to represent the NHS.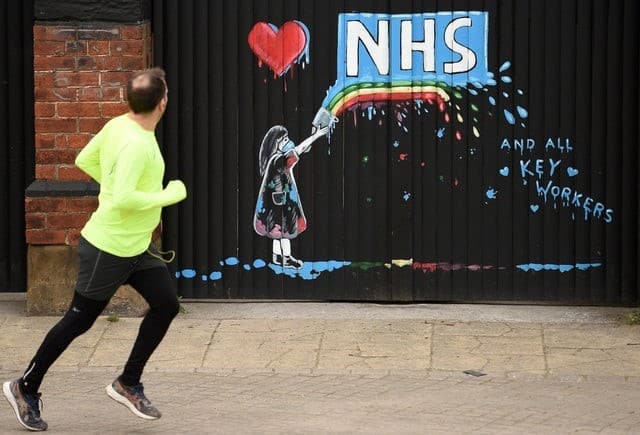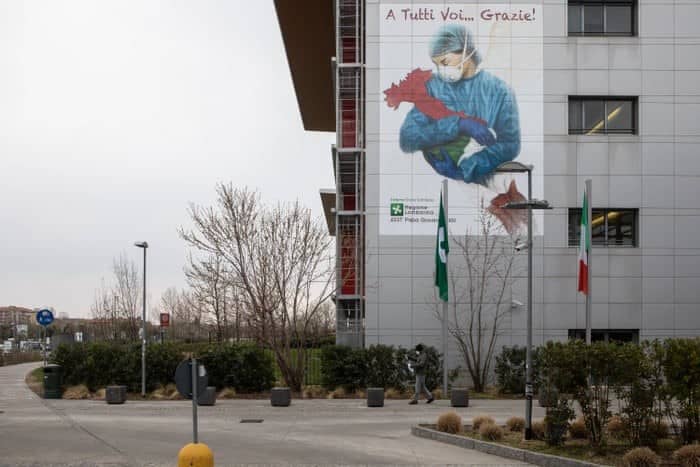 This mural reads: 'To All Of You… Thank You!'
What sense do you make of these public displays of thanks?
---
May 2020
---
Bored of lockdown people started baking bread, gardening and being very imaginative. They shared their creativity on social media.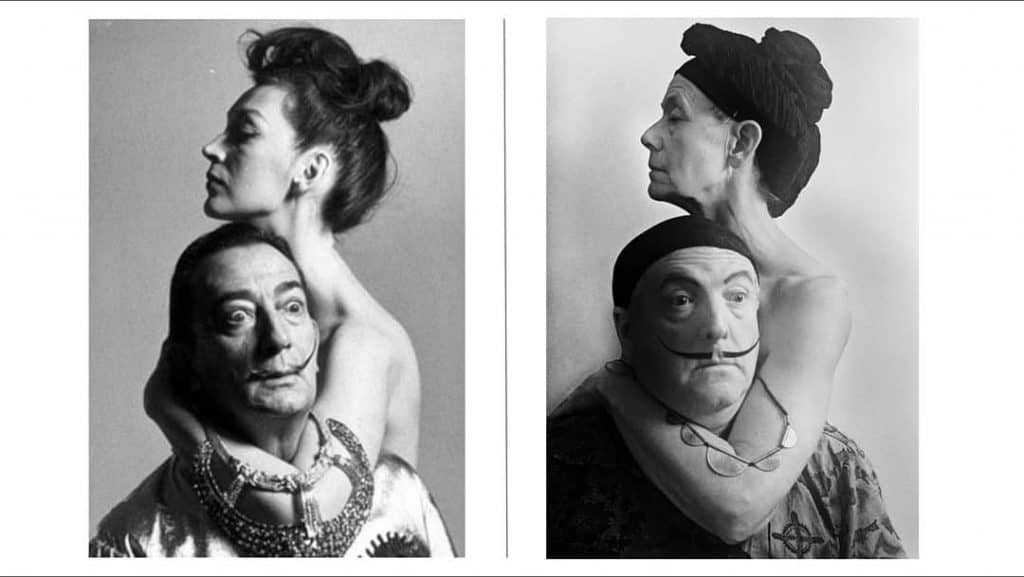 'Parental Pandemic Portraits' is a series of portraits created daily by set designer Molly O'Cathairn whilst in lockdown. Each image features her parents recreating major works of art.
Follow the series at #parentalpandemicportraits on Twitter and Instagram.
---
Artists started to share their work inspired by COVID 19.
One of our favourites is Hold by Anthony Gormley.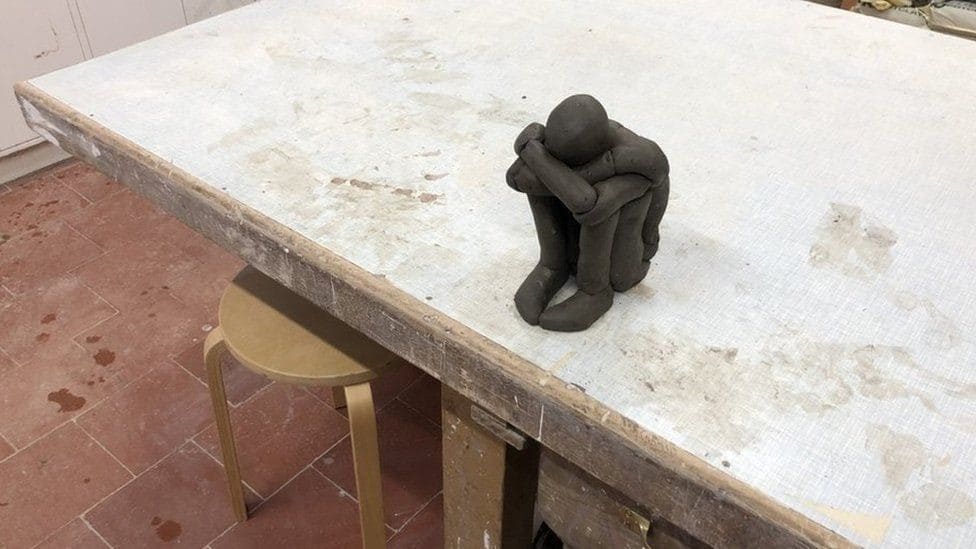 'I wanted to make this self-contained body, looking at itself, at the resource that one has within oneself… [it is] the state that we're all in' – Sir Antony Gormley on his new work.
What do you think Gormley's statement means?
Is this 'state' positive or negative – or both? Might your response have changed over the period of the pandemic?
---
Grayson Perry started his C4 Art Club showcasing art created by members of the public, inspired by the Pandemic. You can watch all the episodes and the 2021 new series on All4 Grayson's Art Club.

This is an initiative for people to get into something creative over lockdown. Have you tried (or considered trying) anything new over lockdown?
---
June 2020
---
By June 2020 communicating with work colleagues, family and friends remotely had become the new norm.
Many of us have found navigating Zoom and similar platforms challenging, tiring and confusing, as well as exciting, fun and rewarding with the phrase 'you're muted' beginning every conversation.
What do you think of this collection of thoughts about Zoom by @stephen_collins?
Have you come across any of these figures in your experience of video calls?
What were your initial thoughts about remote communication, and how do you feel now about it?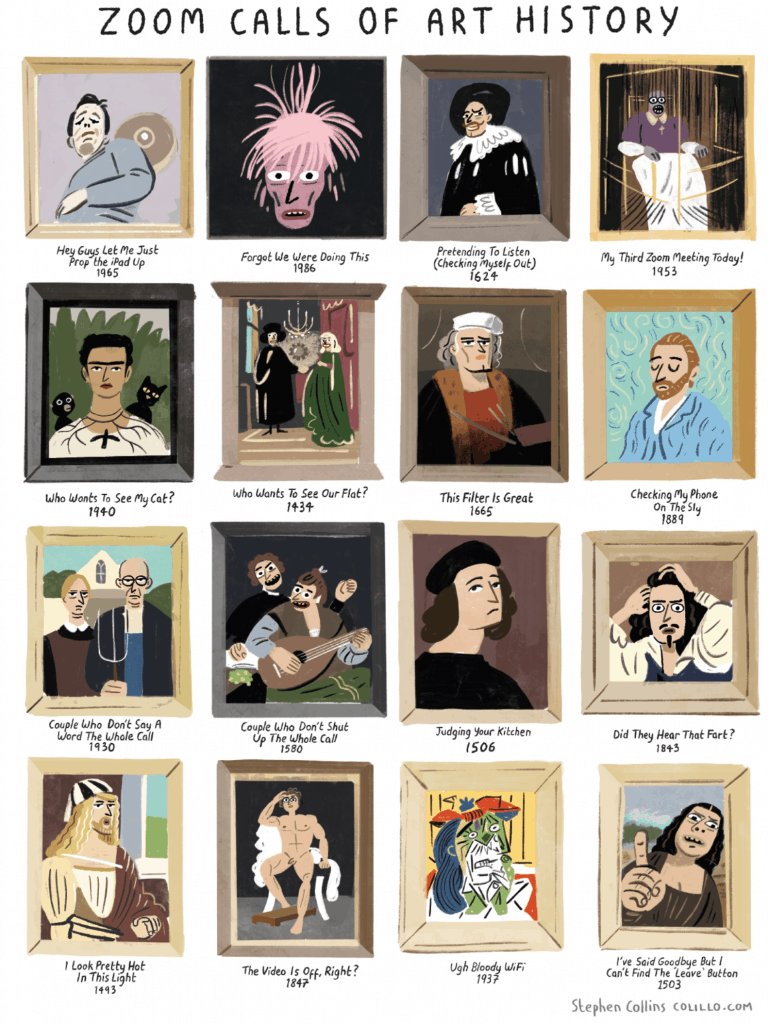 If you would like to think more about connecting remotely take a look at one of E.M. Forster's short stories. Written in 1909, 110 years before the COVID-19 pandemic, The Machine Stops describes a technology very similar to Zoom.
… the round plate that she held in her hands began to glow. A faint blue light shot across it, darkening to purple, and presently she could see the image of her son, who lived on the other side of the earth, and he could see her.
It's amazing how E M Forster could imagine the future and show it to us through his story.
---
July 2020
---
It's hard to recall what actually happened in July with any degree of accuracy. Some aspects of life returned temporarily to a more normal feel with non-essential shops and hairdressers opening up, but some areas of the country faced a continued lockdown.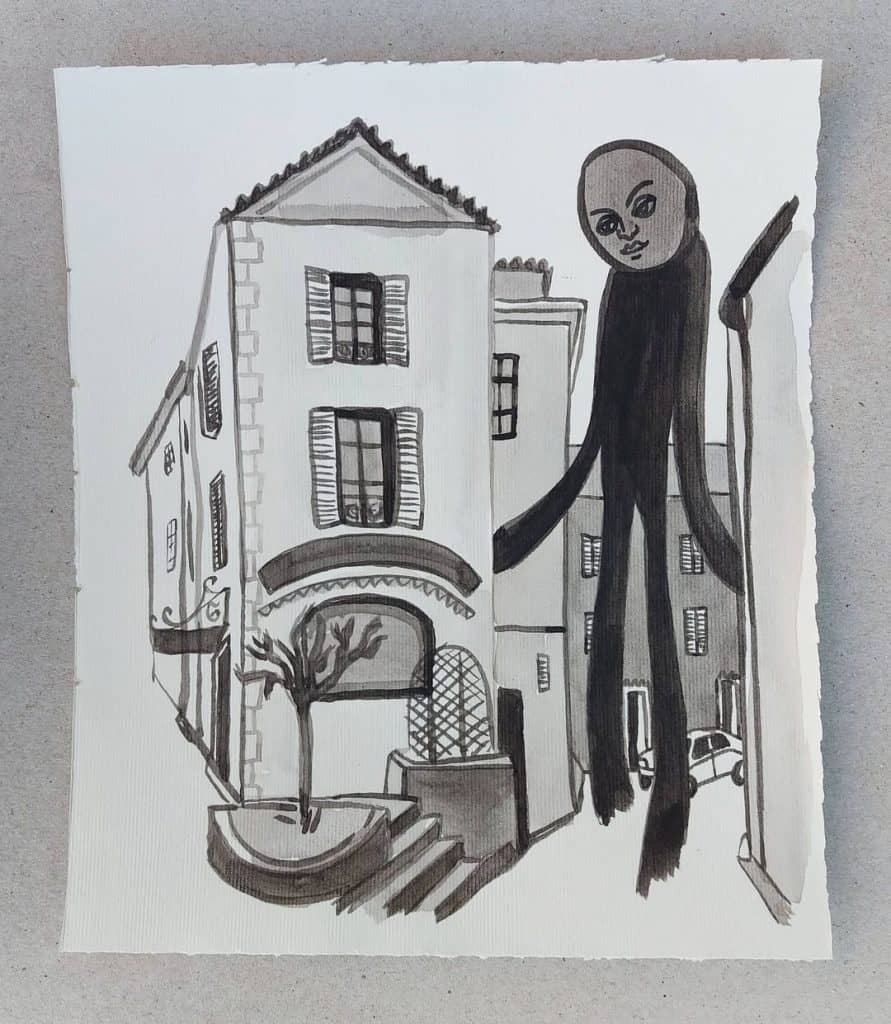 What do you see in this image?
Brazin's piece perhaps captures the surreal, claustrophobic feeling of lockdown. Do you relate to this?
---
August 2020
---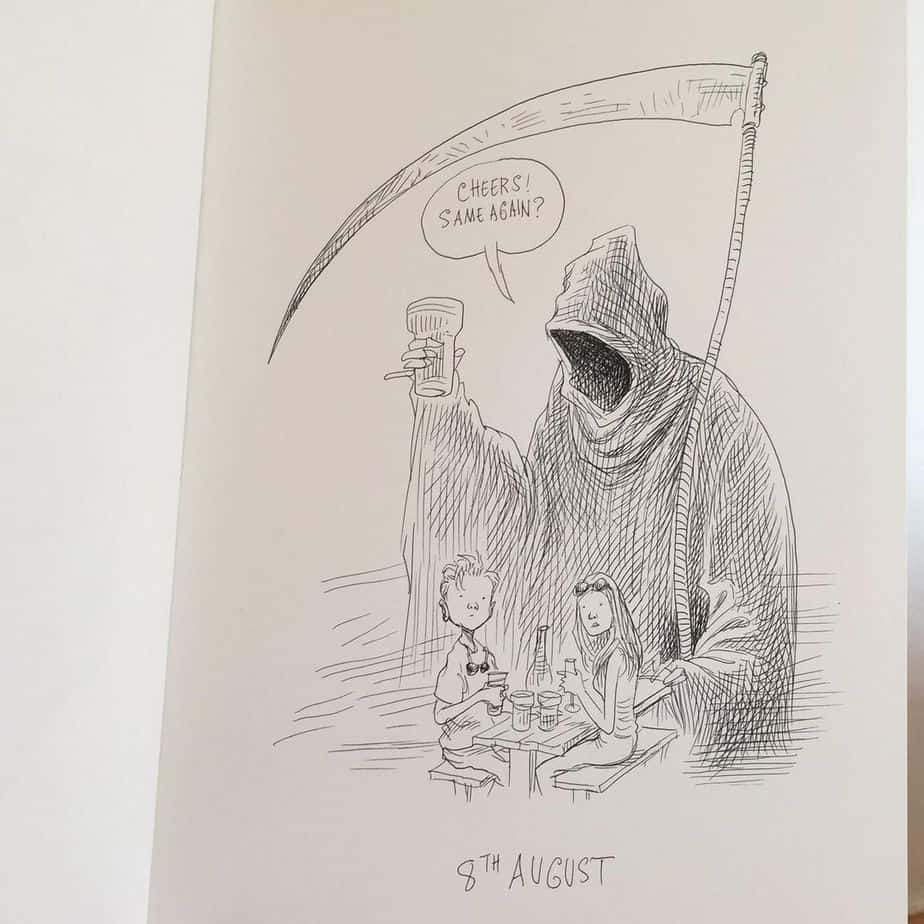 August 2020 saw the launch of the UK Government's 'Eat Out to Help Out' Scheme, which encouraged Brits to return to restaurants by implementing a 50% discount on food and non-alcoholic drinks from Monday to Wednesday.
What are your memories of Eat Out to Help Out? 
Was this a major folly or a boost to wellbeing and the economy?
---
September 2020
---
After a brief summer respite school children prepared to return to normal life while clinicians 'battled on'.
Many clinicians have taken and shared photographs of their experiences during COVID 19, you have probably seen many on social media and in the newspapers.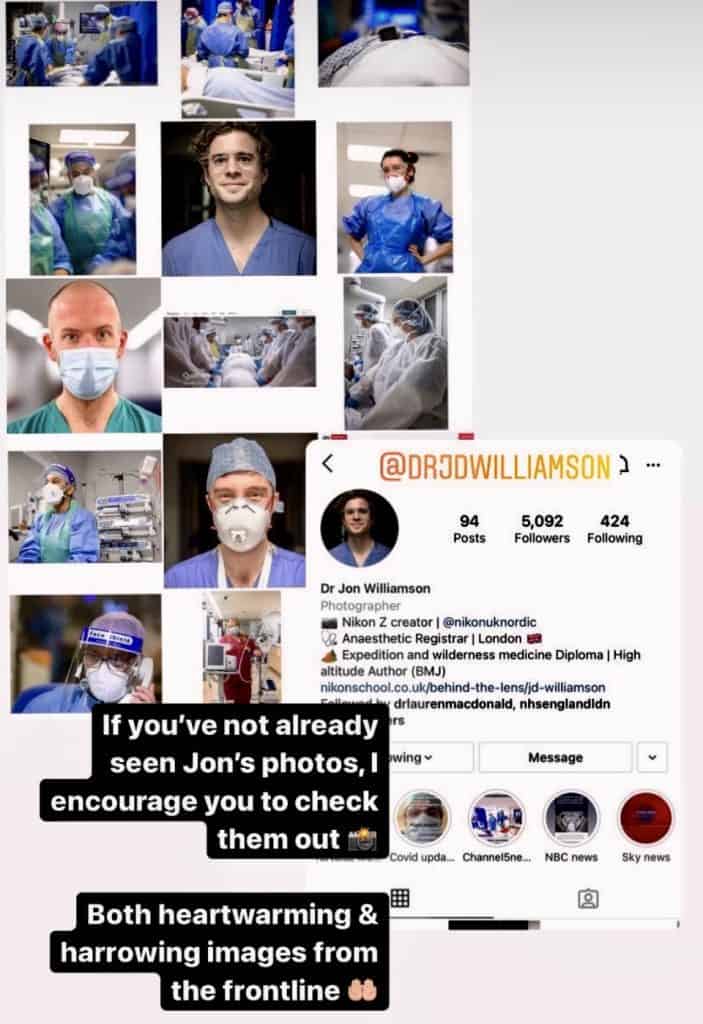 ---
October 2020
---
Countries around the world subjected their citizens to various versions of lockdown.
Experiences of life in 2020 were compared with past pandemics.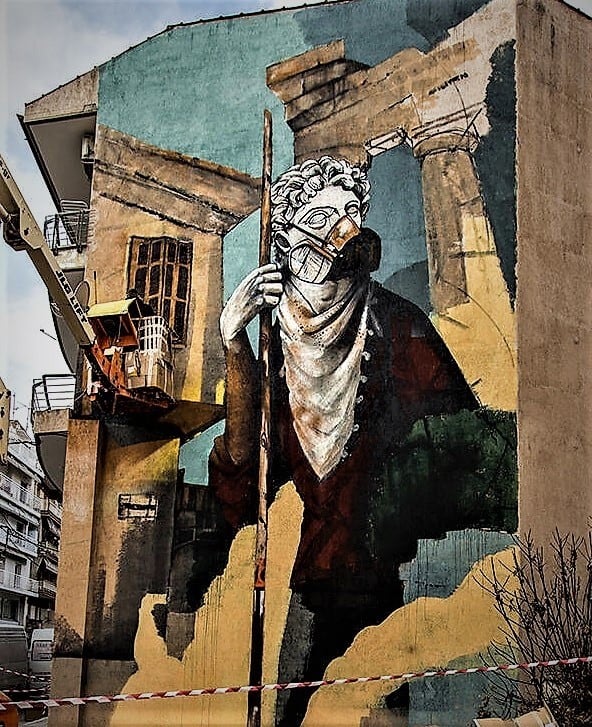 Toulis' mural reflects on the COVID-19 pandemic by looking back to the Great Plague of Athens which ravaged ancient Greece. It also looks forward with hope. Toulis' figure 'patiently awaits a brighter future' and represents 'the personal fight each one of us gives every day'.
---
November 2020
---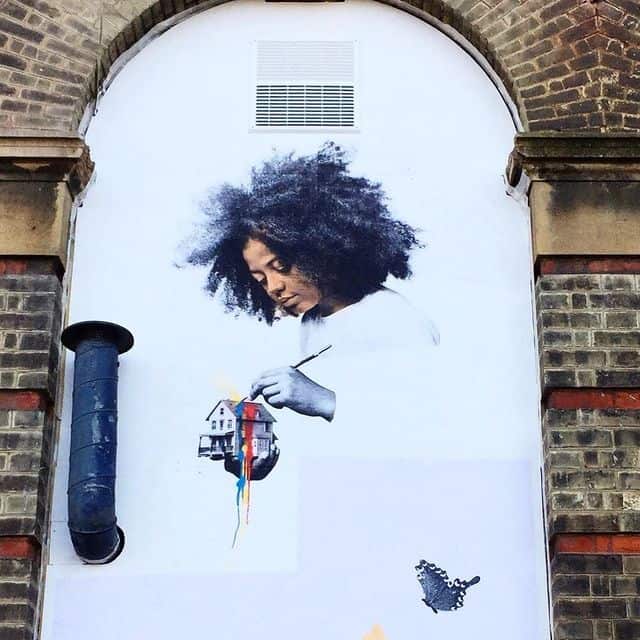 This artwork was featured in the 2020 Artists Walk in Alexandra Palace. When galleries, theatres, cinemas, and other arts venues closed, many artists lost their livelihoods. The Artists Walk provided a new outlet for artists to share their work with local residents.
Have you missed having access to art?
What are you most looking forward to doing when lockdown eases, and why?
---
December 2020
---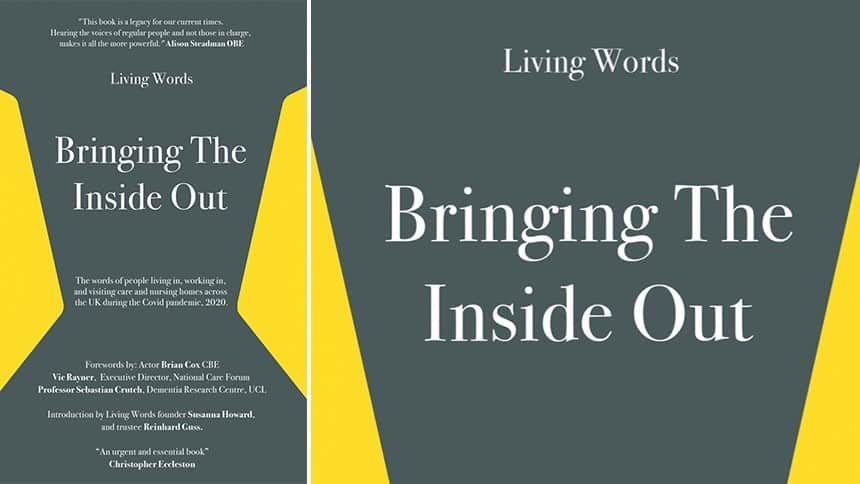 The UK-wide dementia charity Living Words created 'Bringing The Inside Out' from the testimonies of care home residents with dementia, their carers and their relatives. The book was released 14th December 2020.
Some extracts from 'Bringing The Inside Out':
You got my words and listened
Miss son
Virus not like
I miss them
face
I do miss my family
Lonely
A participant living with dementia
I know certainly when I came home at night
I told my husband that we had PPE so that he felt that I was safe
and I'm not a person that lies to my husband
but I reassured him that everything was okay, we had PPE when we didn't
And also my dad. I told my dad that we had it
An anonymous carer
Can you relate to these excerpts – in your work or personal life?
---
The end of 2020 and the beginning of 2021 brought with it hope in the form of several vaccines.
Thousands of elderly people and health workers across the UK received their first dose of the COVID 19 Vaccine.
How did the news about the successful vaccine trials make you feel?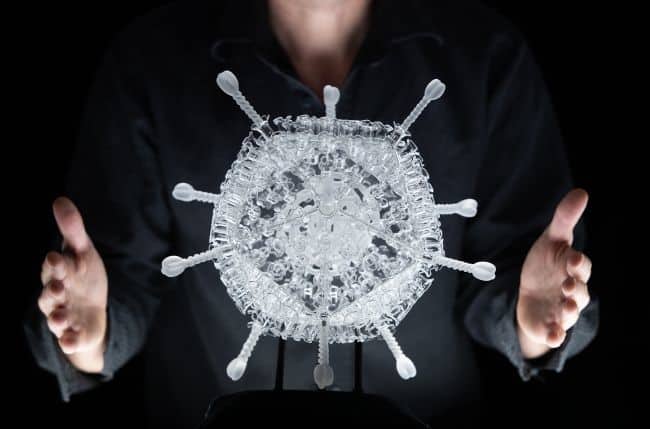 ---
March 2021
---
One year on. 
We continue to live with the fear of COVID 19, and the change this brings to our lives, hopes and aspirations.
For some, the scars are deep and the change permanent.
The lived experience of COVID 19 is captured perfectly by Michel Rosen in his poem Many Different Kinds of Love: Life, Death, and the NHS (published by Ebury)
Here is an excerpt.
Going Home
I'm a traveller
who reached
the Land of the Dead.
I broke the rule that said I had to stay.
I crossed back over the water,
I dodged the guard dog,
I came out.
I've returned.
I wander about.
I left some things down there.
It took bits of me as prisoner:
an ear and an eye.
They're waiting for me to come back.
The ear is listening.
The eye is the lookout.
Two physios come over.
They ask me to walk across the room.
They say that's very good.
They ask me to push my legs against their hands.
They say that's very good.
One of them asks me what are
my longterm objectives.
I stop and think.
What are my longterm objectives?
Do I have longterm objectives?
Should I have longterm objectives?
I would like to write a book
about a French dog called Gaston le Dog.
I don't say that.
I say that I would like to
be able to walk to the Jewish deli on the corner
and wheel the shopping back
in our trolley.
The physio smiles.
She writes it down in her book.
I'm trying to say that going shopping
and bringing it back
seems huge,
much bigger than anything I can do now.
It feels like a longterm objective.
Anything else? she says.
Live for a bit more? I think,
and I've never bothered to pickle cucumbers,
I just buy them,
but my mother made lovely pickled cucumbers,
I would like to try that one day.
You're doing very well, they say.
I am not who I was.
I am who I was.
This is not me.
This is me.
I am now the person
who had Covid:
the thing that came in March
I am now the person
who disappeared
in April and May
I am now the person
who peers into the mirror
hoping his left eye
will see what the right eye sees,
catching a glimpse of the blackness
of the big pupil
looking back at me in hope.
I am now the person
who hears the telephonic trebly sound
through the hearing aid
in his left ear,
that makes the sound of a kettle boiling
into scream.
I am now the person
who is alert to every twinge
or mark anywhere on me.
I am getting to know this person.
This is not me
This is me
---
We hope that this collection of art has helped you to reflect on a year of life during the pandemic. Maybe it has inspired you to make your own collection or pick up a paintbrush or pencil and create your own response to the COVID 19.
---
Page created by Nicola Gill & Beth Jakeman March 2021