---
Before thinking about the conditions associated with neurological disturbance, take a moment to reflect on the amazing collection of neuronal material that is our incredible brain.
This short video may help.
Dr Greg Dunn, an artist and neuroscientist and Dr Brian Edwards, an artist and applied physicist created Self Reflected to help people reflect on the nature of human consciousness by focusing on the behaviour of neuronal activity in the brain. The film reveals through a technique called reflective micro etching the beautiful and delicately balanced neural choreographies designed to reflect what is occurring in our own minds as we observe this work of art.
---
We only really become aware of the amazing function of our brain and our dependence on it when things go wrong and it stops working well, either a temporary blip like a migraine or a more permanent and life-changing problem such as MS or a CVA.
The chapter on the brain in Bill Bryson's book The Body- a Guide for Occupants is a fascinating reminder of everything you learnt at medical school.
In this section, I have selected arts resources to help develop an understanding of what people experience when their central and peripheral nervous systems stop working well.
Migraine and headaches have their own page, as does dementia.
---
CVA - stroke
Jean-Dominique Bauby, editor-in-chief of French Elle suffered a massive stroke leaving him 'locked-in' and only able to communicate by moving one eyelid. Using this small movement he learnt to communicate and dictated this book, which records his thoughts and feelings while lying in the hospital bed.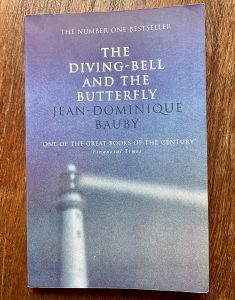 Bauby's memoir was published in 1997, the year he died and was later made into a film of the same name. When I reflect on how the memoir was written I think the book is a more poignant and intimate record of his illness experience.
Before you read or watch his story, take a moment to think about the title of the book. Why do you think he chose this title?
---
Muscular Sclerosis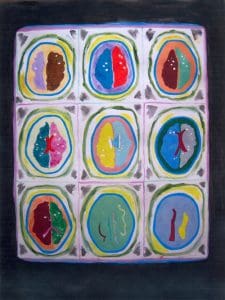 When artist Marguerite McDonald was diagnosed with MS she began keeping a 'pictorial journal' to interpret the impact of the disease on all aspects of her life, including her art. She worked with poet Marylou DiPietro to combine her images with Marylou's words and create the art project, Snow on the Brain.
Above is one of the images. You can watch the art project here.
---
Parkinson's Disease
In his poem, Parkinson's Disease, American poet, Galway Kinnel describes the intimate relationship between daughter and father, a father whose life has changed because of Parkinson's Disease.
.....she is facing him
walking backwards in front of him
holding his hands, pulling him
when he stops, reminding him to step
when he forgets and starts to pitch forward.
She is leading her old father into the future
as far as they can go, and she is walking
him back into er childhood, where she stood
in bare feet on the toes of his shoes
and they foxtrotted on this same rug.


Read the whole poem at Poetry Foundation
---
Epilepsy
Sit for a minute and think about what art you might choose to represent epilepsy.
A Jackson Pollock paint-splattered canvas, a discordant loud piece of contemporary jazz.....
Did you know as recently as 1956 in some American states it was illegal to marry if you had epilepsy? What prejudices and fears do you think led to this decision?
' The history of epilepsy can be summarised as 4000 years of ignorance, superstition and stigma followed by 100 years of knowledge, superstition and stigma.' Rajendra Kale writing in the BMJ.
The most fascinating book I have read about epilepsy is a story set at the interface of art and science.
The Spirit Catches you and you Fall Down by Anne Fadiman is an exploration of epilepsy in the context of culture. To the Hmong (people who are from Laos) epilepsy is a gift and not something to be medically treated. This belief causes conflict between the American health care workers and a family from Laos whose child suffers from epilepsy.
---
Neurosurgery
During my exploration of resources for this page I was reminded of Ian McEwan's novel, Saturday. The book is about the life of Henry Perowne, a middle-aged, successful neurosurgeon. The remarkable level of detail about Perowne's work is credited to the 2 years McEwan spent shadowing Neil Kitchen, a neurosurgeon in London. 
---
Neurology
Probably the most famous book about neurology is by Oliver Sacks, an Englishman who worked as a neurologist in the States. I remember reading his collection of short stories 'The Man Who Mistook His Wife for a Hat' at medical school and although his stories feature rare neurological disturbances they helped bring the subject to life.
---
page created October 2021
---