Before you look at the resources take a moment to reflect on your current knowledge. What do you want to learn?
All abuse whether neglect, sexual abuse and rape, domestic abuse, or modern and historical slavery arise because of inappropriate use of power.
To what extent is abuse a construct of societal rules, the law, beliefs, culture and tradition? Can you think of examples of behaviours that were once acceptable but are now considered abuse or attitudes and practices that you feel constitute abuse but are accepted practices in some countries?
Thank you to @drtarageorge GP for recommending these two powerful resources.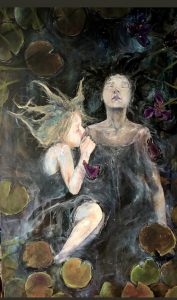 Tara is a survivor of childhood sex abuse and trafficking. She shared her painting on Twitter to raise awareness of child trafficking and abuse. These words accompanied her picture.
I am a victim of child trafficking. We were drugged raped and photographed and more. I spent the night trying to make her be ok, but she died beside me under the covers. I was 9. This is my most precious painting. The painting, painting it and having it, heps me bear the weight of the pain and terror of that. I made us safe, put us into the water suspended in time, quiet, covered in lily pads, and flowers for her. No one could get us in that moment.
And this poem Night Sitter by Elizabeth Jennings
You will find lots of other resources relating to abuse on the power page.
Just a thought….if you are looking for resources to use in safeguarding teaching it's helpful to flip the question and ask 'what are we safeguarding people against?' this then opens the door to a multitude of resources about abuse, neglect and misuse of power.
Page created January 2023