These resources are intended to be used in a tutorial, small learning group or in personal study to stimulate discussion and thought about gender.
---
what is gender?
---
What is the difference between the descriptive terms: 'gender' and 'sex'?
How do you define these terms?
Gender – socially constructed roles, behaviors, activities, attributes that a given society considers appropriate for men and women.
Sex- biological and physiological characteristics that define men and women.

---
roles and stereotypes
---
What is implied by the term masculine?
What is implied by the term feminine?
What stereotypes and roles are implied in this picture from the 1960s?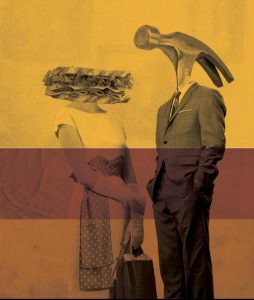 ---
Poetry can be a helpful way of expressing thoughts and feels.
A mesostic is a poem arranged so that a vertical phrase intersects lines of horizontal text.
Here are two examples of mesostic poetry exploring the stereotypes associated with the words masculine and feminine.
These poems were composed by two colleagues. You could explore your own thoughts about gender stereotyping through this medium.
---
What has influenced your views about gender roles and stereotypes?
Our views are often influenced at an early age through songs we learn in childhood, such as nursery rhymes.These appear harmless but have the power to establish stereotypes.
Do you remember this childhood rhyme?
What are little boys made of?
What are little boys made of?
Snips and snails
And puppy-dogs' tails
That's what little boys are made of
What are little girls made of?
What are little girls made of?
Sugar and spice
And everything nice
That's what little girls are made of
Are there examples of similar rhymes and songs from your childhood?
The Channel 4 series 'The Secret Life of Five Year Olds' has some great resource material to promote discussion about gender stereotyping.
---
In the UK why do we dress boy baby boys in blue and baby girls in pink?
Are there adverts or messages in the media that influence your thinking or reinforce stereotypes?
Are gender stereotypes helpful in anyway?
---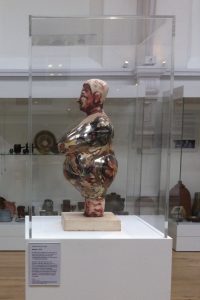 Melanie is part of a ceramic work entitled 'The Three Graces' made by Grayson Perry for his exhibition Who Are You? Perry's work explores British class, gender and social issues. Melanie, Georgina and Sarah- were contestants in the 'Miss Plus Size International' competition and Perry was filmed joining them on a weekend boot camp in Somerset. He was interested in their struggle for acceptance as larger size women, Melanie is a representation of one of these women. Images of women, from supermodels to the Madonna, are painted and printed on to her figure. These aim to show the shifting view of what constitutes female perfection. The curvaceous form of Melanie echoes fertility figures dating back more than 25,000 years. Grayson's referencing of these prehistoric celebrations of the female body paints a positive image of an oversized woman. The original Three Graces is a neoclassical sculpture of the three mythological charities, daughters of Zeus: Euphrosyne, Aglaea and Thalia; representing mirth, elegance and beauty.
---
'All Man' Grayson Perry (2017) Channel 4
For a view of masculine stereotypes take a look at the TV series, 'All Man', in which Grayson Perry investigates contemporary masculinity. Three 'ultra-male worlds' are explored to see what their extreme masculinity has to tell us about the changing lives and expectations of men in Britain today. Grayson captures what he sees by making art, and then shows that art to the people who inspired it.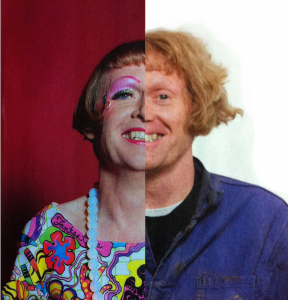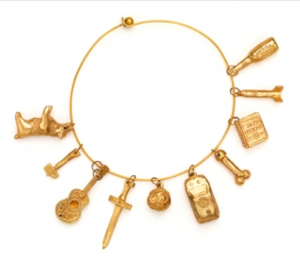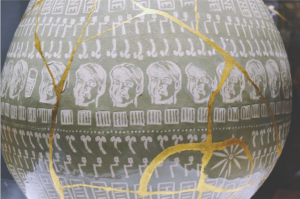 The Huhne vase is a portrait of the politician Chris Huhne, repeated motifs decorate the vase: the politician's face, his personalised number plate, and a penis. Perry says, "He represents what I call Default Man. A white, middle-class, middle-aged, heterosexual man, an identity group that hides in plain sight."
---
These books are good resources for exploring and discussing gender stereotyping:
Power Naomi Anderson (2017)
Herland Charlotte Perkins Gilman (1915)
---
These films are good resources for exploring and discussing gender stereotyping:
North Country Directed by Niki Caro (2005)
The Taming of the Shrew William Shakespeare. There are several screen versions of the play.
---
gender in medicine
---
In 1809 Margaret Ann Bulkley decided to become James Barry, in order to attend the men's-only University of Edinburgh and practice medicine—a guise that would last for 56 years. It wasn't until after Barry's death in 1865, that the doctor's secret was finally discovered. She was first woman to graduate from a UK medical school.
You can read her story in the book, James Miranda Barry by Patricia Duncker.
How do gender roles and stereotypes impact on the workplace in the 21st Century?
---
gender identity
---
Gender identity is currently widely discussed. Gender fluidity may appear to be a new concept but in many societies it has always been a cultural norm.
In the UK before the period of history known as the Enlightenment (1685-1815) male and female bodies were considered to be the same with female genitalia being the inverted form of male genitalia. There was a much more fluid and dynamic approach to the nature of gender.
Since the Enlightenment women have traditionally been defined as 'other'. Contemporary anatomy textbooks designed for medical students still portray the male body as the standard human body against which the 'different' female body is compared.
What thoughts do you have about gender identity from the perspective of:
an individual?
a patient?
society?
you as a doctor?
---
In society today how do people express their gender identity?
Take a look at the work of J J Levine to help you consider this question.
---
Is a person's gender either male or female?
Deities are frequently pictured as being both male and female.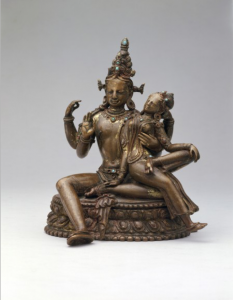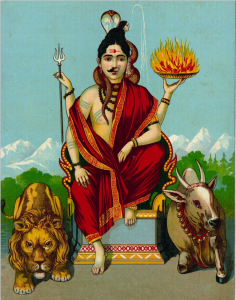 ---
What do you think about this sculpture, Sleeping Hermaphrodite?
In Greek mythology, Hermaphrodite was the son of Hermes and Aphrodite, he fell in love with the water nymph Salmacis and prayed to be united with her for ever. Their bodies were merged into one and transformed into an androgynous form, hence the origin of the word 'hermaphrodite'.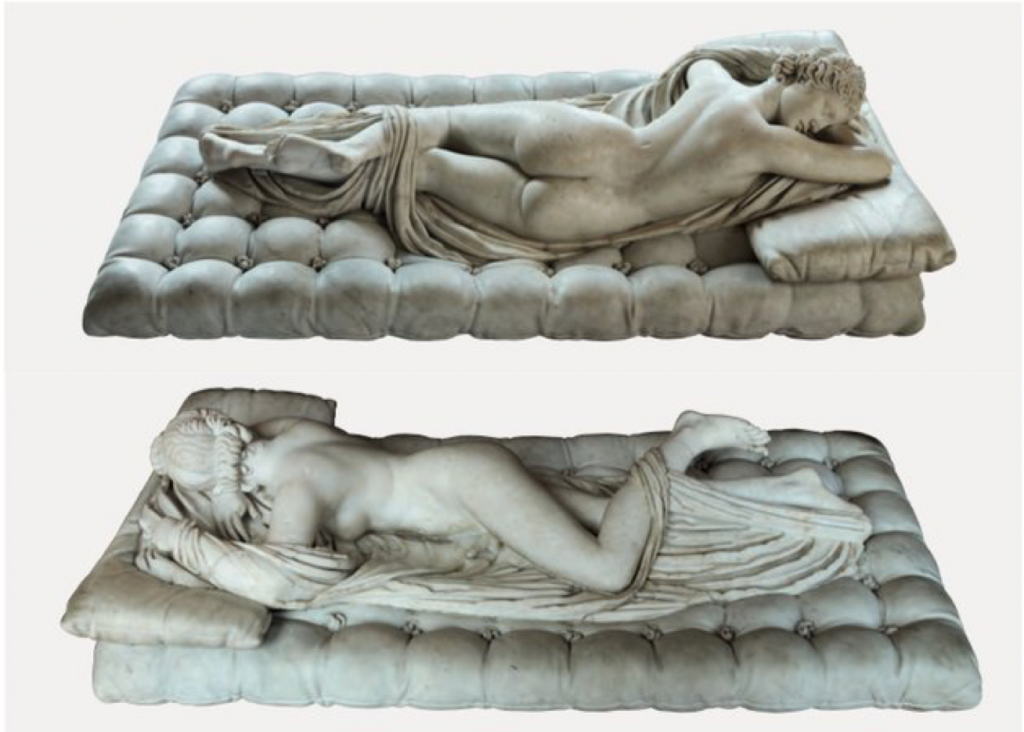 ---
Is gender binary?
Excerpt from Poem (author unknown)
I not black
I am not white
I am the grey space in between
I have to choose between the judgements
Of M or an F
When I am already fighting the stares and confused,
Questioning head tilts of
strangers, family, friends because
I have found comfort in who I am
Strength in my identity that defies the norms
and they still don't understand that
Every day is a challenge
a new mountain to climb because this world sees only in
black and white
---
Is gender identity a choice?
Take a look at these pictures to help you explore this question.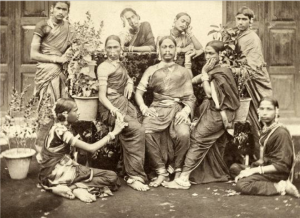 ---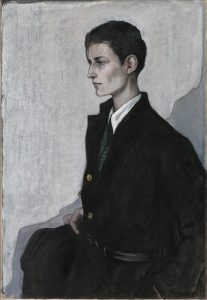 Image in the public domain
Brooks, born in 1874, was part of a little-known group of women artists who wore men's clothes and cut their hair short not just to embrace the 1920s androgyny trend, but to communicate to others that they were lesbians.In an era dominated by men, Brooks painted largely her own friends and lovers. Her work provides a fascinating glimpse of lesbian subculture in the early 1900s. This picture depicts British painter Hannah Gluckstein, heir to a catering empire who adopted the genderless professional name Gluck.
---
For more inspiration, take a look at Self Portrait with Cropped Hair by Frida Kahlo 1940 owned by The Museum of Modern Art (MoMA), New York City.
---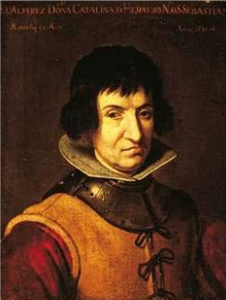 Catalina was a young girl forced to take religious vows at the age of four. She escaped and lived the rest of her life travelling round the world disguised as a man. She became known as the Lieutenant Nun because of her distinguished military career. The most remarkable part of her story is that Pope Urban VIII granted her the 'privilege' to dress and behave like a man.
---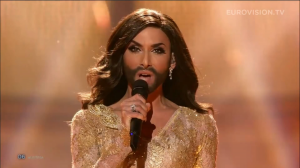 Conchita Wurste (Tom Neuwirth a gay male drag queen) who won The Eurovision Song Contest in 2014.
---
Are there ways in which you behave that you do not think conform to your gender stereotype?
Individuals who feel they fall outside the gender binary identify with other labels, of which there are many. Doctors should have an awareness of what these labels mean so they can better understand their patient's identity. Link
---
These films are good resources for exploring and discussing gender identity:
The Danish Girl Directed by Tom Hooper (2015)
---
These books are good resources for exploring and discussing gender identity:
The Ministry of Utmost Happiness Arundhati Roy (2017)
She, a woman trapped in a man's body. Raging at her glands, her organs, her skin. The texture of her hair, the width of her shoulders, the timbre of her voice. Wanting to pluck the very stars from the sky and grind them into a potion that would give her proper breasts and hips and a long thin, plait of hair that would swing from side to side as she walked.
She, who never knew which box to tick, which queue to stand in, which public toilet to enter.'
Middlesex Jeffrey Eugenides (2002)
This book opens with the following lines, 'I was born twice: first as a baby girl, on a remarkable smogless Detroit day in January of 1960; and then again, as a teenage boy, in an emergency room near Petoskey, Michigen, in August of 1974.'
---
Gender equality is an ongoing subject of cultural, political and personal discourse, debate and unrest.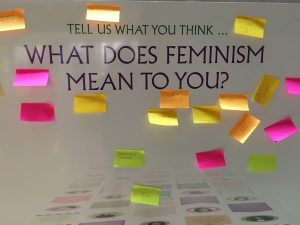 This picture was taken at an exhibition, 'Sappho to Suffrage; Women who dared', March 2018 – February 2019 at the Weston Library (part of the Bodleian Library, Oxford)
In November 2020 Maggi Hambling's statue to commemorate the 'mother of feminism', Mary Woolstonecraft was unveiled in London. It is provoking much debate, what do you think?
There are more arts resources about gender discrimination here.
---
sex, gender and illness
---
Many illnesses are unique to one sex or more commonly found in a particular sex.
Have you ever wondered why there is a speciality devoted to female disease and illness, 'gynaecology', but no equivalent for men?
Here are two more examples of mesostic poetry identifying conditions that are more likely to be associated with one sex/gender.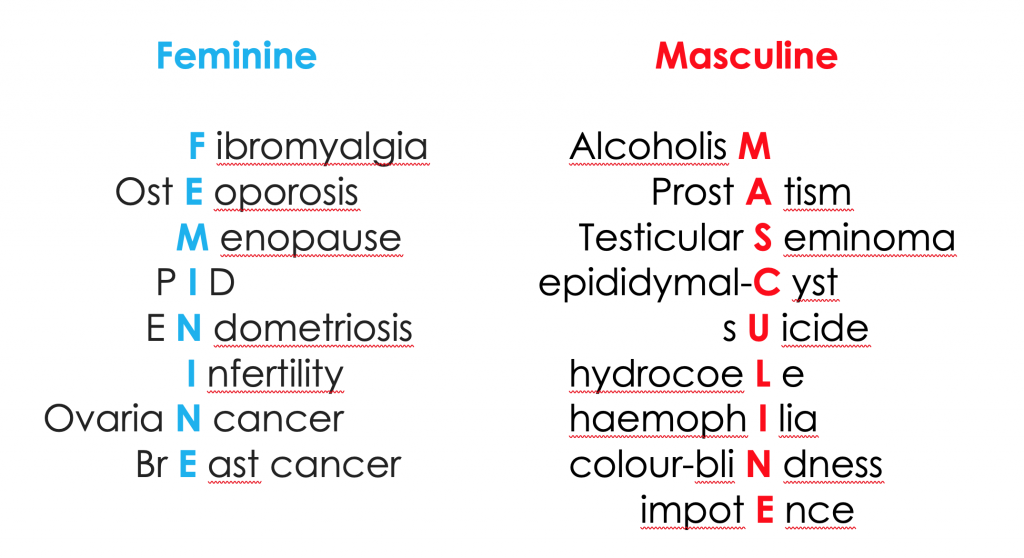 ---
These resources may help you consider illnesses related specifically to sex and/or gender.
---
Polycystic Ovarian Disease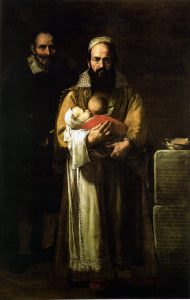 Reproduced under creative commons license
Bearded women were common, discriminated against, and often earned a living as a 'curiosity' in a circus.
When looking at this picture what assumptions do you make about the main character's sex and gender?
How does your interpretation of the picture change if you are told the sex of the character is female?
---
Suicide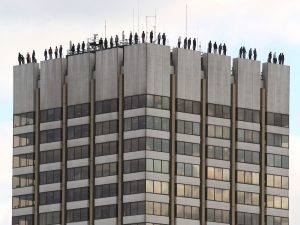 Each week in the UK 84 men take their own life. To highlight these statistics the artists Mark Jenkins and Sandra Fernandez, created 84 individual sculptures, each one, representing a real life lost. Friends and family members of the deceased helped in the creation process of the figures. The project was intended to stop people in their tracks, make them pay attention and inspire much needed conversation and action around suicide. Read more about this project
---
Miscarriage
Frida Kahlo's picture 'Henry Ford Hospital' is a visual allegory of her experience of miscarriage in 1932. There are 6 objects surrounding the image of her on the bed. These objects are: a foetus- who is painted in the image of her lover, her empty pelvis to represent the loss of her baby, female reproductive organs to represent the failure of her own, an orchid- also a gift, like the child from her lover, a snail- refers to the slow tortuous nature of miscarriage, and an autoclave used to sterilise medical instruments, this link to sterility probably relates to Kahlo's sense of her own infertility.In the background there is the Henry Ford car factor, where modern conveyor belt technology was practised, she felt that her experience of miscarriage was akin to being on a medical conveyor belt.
---
Postnatal depression
Charlotte Gilman Perkin's novella, The Yellow Wallpaper is the story of her experience of postnatal depression and how she was 'cared for' by her medical husband.
---
Menstruation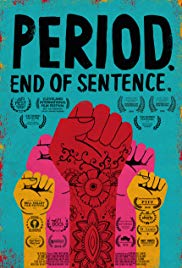 The short docu-film 'Period end of sentence' tells the story of a group of Indian Women who fight the stigma surrounding menstruation and begin manufacturing sanitary pads.
Take a look at the work of Indian photographer and activist Poulomi Basu as part of her research into normalised violence against women in Nepal she chanced upon a practice called chaupadi. In this extreme practice women and girls are banished from their homes and isolated from their families during their monthly menstruation. Her photos tell the stories of these women's lives.
---
Menopause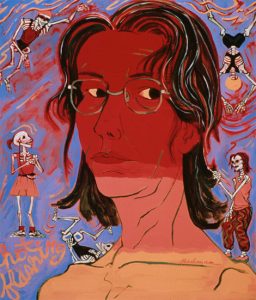 Take a look at the work of Helen Redman.
This picture is called 'Hot Flashing' and is her interpretation of the hot flushes associated with the menopause.
---
Created with help and inspiration from Beth Jakeman
Resources used at HEE Spring School October 2016 'A question of identity'
Updated Nov 2020