---
From the minute we are born we all age.
Ageing is not a disease, but it brings about changes in health and well-being and with this the need to adapt.
Use these resources to consider the impact of ageing on an individual's health and wellbeing.
Let's start by reading The Seven Ages of Man, a monologue spoken by Jaques in Shakespeare's As You Like It.
All the world's a stage,
And all the men and women merely players;
They have their exits and their entrances,
And one man in his time plays many parts,
His acts being seven ages. At first, the infant,
Mewling and puking in the nurse's arms.
Then the whining schoolboy, with his satchel
And shining morning face, creeping like snail
Unwillingly to school. And then the lover,
Sighing like furnace, with a woeful ballad
Made to his mistress' eyebrow. Then a soldier,
Full of strange oaths and bearded like the pard,
Jealous in honour, sudden and quick in quarrel,
Seeking the bubble reputation
Even in the cannon's mouth. And then the justice,
In fair round belly with good capon lined,
With eyes severe and beard of formal cut,
Full of wise saws and modern instances;
And so he plays his part. The sixth age shifts
Into the lean and slippered pantaloon,
With spectacles on nose and pouch on side;
His youthful hose, well saved, a world too wide
For his shrunk shank, and his big manly voice,
Turning again toward childish treble, pipes
And whistles in his sound. Last scene of all,
That ends this strange eventful history,
Is second childishness and mere oblivion,
Sans teeth, sans eyes, sans taste, sans everything.
---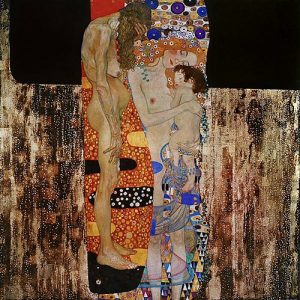 Although a universal experience there are stages of ageing that are unique to being a woman. Use this painting by Gustav Klimt to explore this.
While you are thinking take a look at this:
Seven Ages of Woman – BBC Radio 3 commission
World premiere recording of a work in seven movements by seven composers, each representing her own decade, and what it means to her to be a woman in 2020. A multi-generational piece of music in a journey from the optimistic entry into the adult world, to motherhood, to achievements in science, to the serene image of trees when their leaves have fallen, revealing the humanity underneath.
Sung by the BBC Singers
Recorded at St Peter's Eaton Square, London on 27 February 2020
Listen and read more on BBC Sounds
---
The majority of art resources depict the negative aspects of ageing, the association with illness and loss. In contrast take a look at these wonderful photographs by Arianne Clement, that celebrate The Art of Aging
---
These resources explore ageing in more depth and make excellent resources for teaching or a tutorial:
Books
A Man Called Ove Fredrik Backman
Being Mortal Atul Gawande
Films
The Curious Case of Benjamin Button (2008)
The film adaptation of Shakespeare's King Lear
Poems
The Old Fools by Philip Larkin
---
Many illnesses are associated with ageing, for example, dementia, Parkinson's disease, and cancer, resources for these specific conditions can be found on the 'a to z' resource page.
---
created 9th March 2020