Resources for exploring 'home'.
---
Quotations for stimulating discussion about 'home'
---
'A house is our first universe as children, the shelter of our imagination itself, a nest for dreaming.'  Gaston Bachelard
'I long, as does every human being to be at home wherever I find myself.' Maya Angelou
'Where thou art- that -is home.' Emily Dickinson
'Home is not a place but a time'. Ian Mortimer, The Outcasts of Time
'I felt at home in Germany but in the English language.' Michael Hulse
'Home is the place where, when you have to go there, they have to take you in.' Robert Frost, Death of a Hired Man
'There is no place like home'. Dorothy The Wizard of Oz
---
Pictures for stimulating discussion about home
---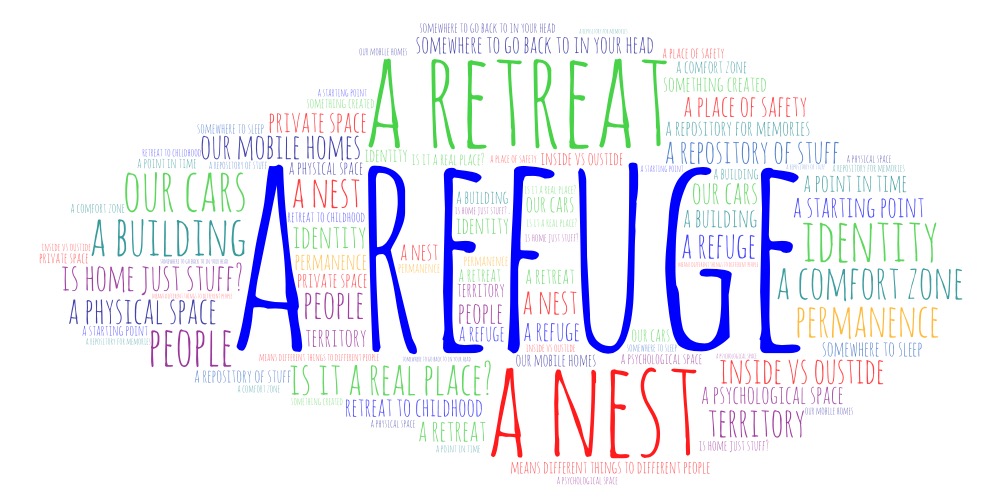 Word Picture 'What is home?'
This word picture was created at a recent seminar on the topic of home.
What words might you choose to make your own word picture?
(Why) is home important?
Is the concept of 'home' different depending on where you live in the world?
---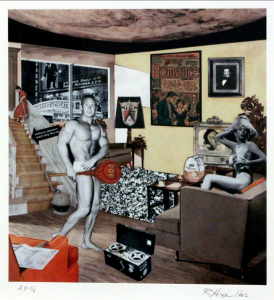 This collage was created for the post-war exhibition 'This is Tomorrow'.
What does this picture tell you about home in 1950s Britain.
Compare this image with Hamilton's updated collage which was created in 1992 on the computer for the TV series QED
What would a collage of your own home look like?
This Photo by Unknown Author is licensed under CC BY-NC-ND
---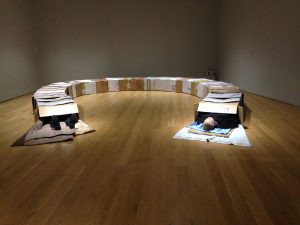 I took a photo of this exhibit at the Museo de Bellas Artes in Bilboa. The installation was part of an exhibition celebrating Hyperrealist Sculpture between 1973 and 2016.
It is clearly a distortion of reality.
Does it help you understand how it might feel to be homeless?
Would this man call this his home?
---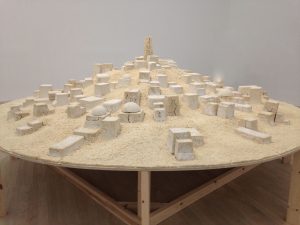 This model of the ancient Algerian city of Ghardaia was made entirely from couscous.
What distinctive features of your home town would be represented in a similar model?
It might be fun to consider what food product the artist might use to represent your home town?
---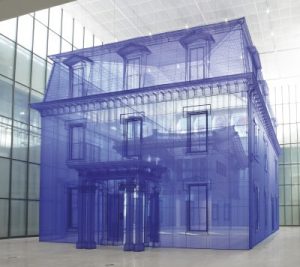 Take a look at the work of Do-Ho Suh, (click to the link)  is my favourite installation. It is a replica of Do-Ho Suh's traditional Korean family home inside his Western style home.
---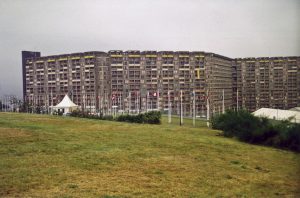 Hyde Park Flats in Sheffield were built as part of the UK's post-war housing boom. Their design was based on the 1950's brutalist architecture of Le Corbusier and built in 1961 by Jack Lynn and Ivor Smith. I visited these flats many times as a GP Trainee.  Their uniform austere outside did not give any clue to the individual style of the flat's interiors. Some warm, colourful and homely reflecting the culture and style of the owners, others bleak, damp and barren, home to drug dealers.
Many people aspire to build their own home. It's interesting that the architects of these large housing projects never choose to live in the homes they have created.
This file is licensed under the Creative Commons Attribution 2.5 Generic license.
---
Books to explore the concept of home
---
The Outcasts of Time Ian Mortimer
The plot of this historical novel starts in 1348 and explores the concept of home being not just a location but also a place in time. The novel also includes a powerful and haunting description of the impact of The Black Death on individuals and their community.
Home Salman Rushdie
This 'Vintage Mini' brings together extracts from five books by Salman Rushdie all related to the meaning of home.
The Clothes They Stood Up In Alan Bennett
This short story by Alan Bennett explores the value people place on the material richness of their homes.
At Home Bill Bryson (2010) Published by Transworld Publishers
In this book Bryson explores the historical story behind each of the rooms in his own English home. He considers what makes a house a home.
---
Poems to explore the concept of home
---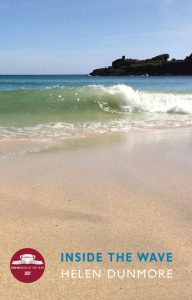 Helen Dunmore's final collection of poems won the 2017 Costa Poetry Award for 'being a modern classic; a fantastic collection, life-affirming and uplifting.  The poems carry powerful messages that speak to all of us.'
It contains the poem Nightfall in the IKEA kitchen.
Anyone familiar with IKEA will feel at home in this poem.
Here is a short exert to whet your appetite.
Expedit, Tromsø, Isfjorden ...
I rock in the peace of their names
Even as I mispronounce them
For this is nightfall in the one-bedroom
---
Exhibitions to explore the concept of home
---
The Wellcome Collection's current exhibition is an excellent resource for considering 'home'
Living with Buildings 4 October 2018 – 3 March 2019
The exhibition considers how buildings especially our homes affect our physical and mental health. It looks at how architects, planners and designers can influence our wellbeing through the colours and designs of their buildings.
If you can't get to see the exhibition; the highlights are on the Wellcome Collection's website.
---
Updated December 11th 2018