How do you define 'culture'?
Here is a definition.
Culture is a descriptive term for the characteristics and behaviors of an individual, group or nation. It's is made up of many factors including ethnicity, racial features, traditions, religion, beliefs, values, social habits, arts, language, gender, social status, environment and generation.
Culture can refer to many aspects of your life: your country, your community, where you work.
Put more simply it's 'how we do things around here'.
Culture is what gives us a sense of identity and belonging and helps us understand how we relate to the people around us.
In the context of medicine, we need to be able to recognise cultural similarities and explore, understand and respond to cultural differences with the aim of providing good compassionate medical care as part of a team.
---
Bridging the Gap
---
We could use an image of a bridge to explore how we relate to someone else.
Let's call this 'Bridging the Gap'
The bridge is a wonderful metaphor for the process by which individuals connect and understand each other better.
The poet Larkin said, "Always it is by bridges that we live"
Let's start by listening  to Philip Larkin read his  poem 'Bridge for the Living'
---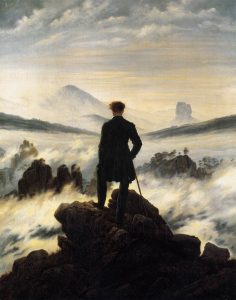 You could use an image of a bridge to think about how you connect with your trainee. (or substitute the word trainer, colleague, or patient)
Write in words what issues, beliefs, experiences, separate you and lie in the water or ravine and write on top of the bridge what helps connect you.
This image was created at a GP Trainers' seminar.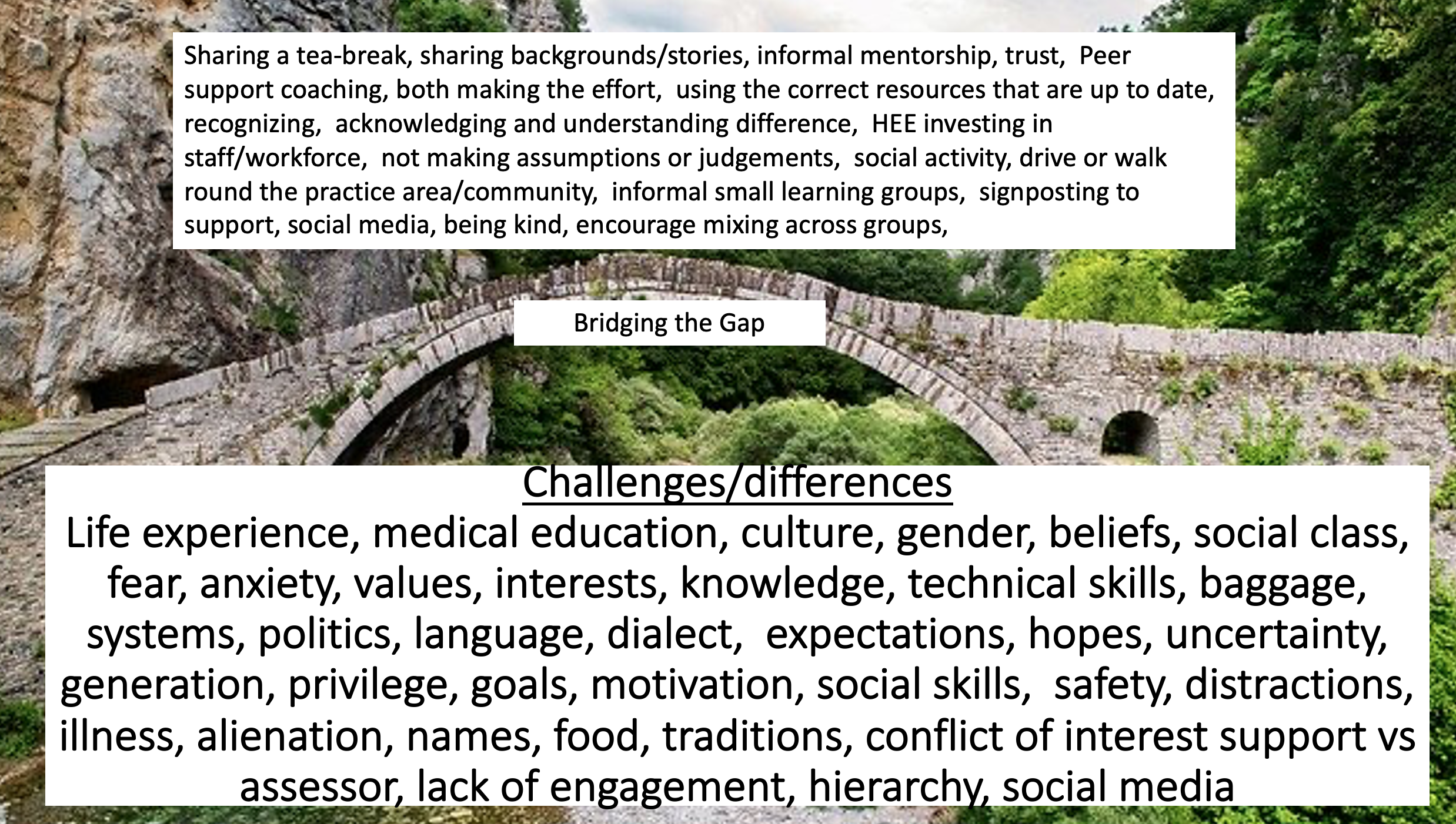 Like me, you might feel that the metaphor of the bridge is helpful, but I think it also raises many questions.
What you are describing on your side of the bridge is 'your culture' or 'how we do things around here.'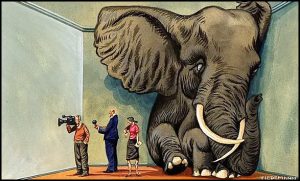 There is an elephant in the room.
With regard to medical education, to what extent do you expect the person on the other side of the bridge to change their culture or way of doing things to enable you to work together, care for patients, and pass college exams?
Are we training doctors to be like us, or to be themselves?
Where on the bridge would you expect to meet your patient?
---
Discussing and exploring difference can be challenging.  Art resources can provide neutral territory.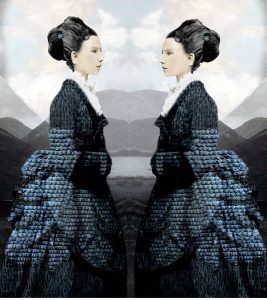 Sometimes we perceive that our trainee (trainer, colleague, or patient) is 'like us'.
Sometimes differences between how we see ourselves and our trainee are more obvious, but difficult to understand and to discuss.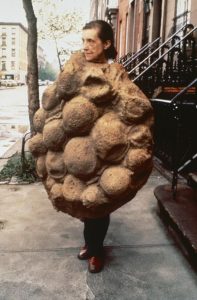 ---

Grayson Perry Comfort Blanket  2014 This piece of work by Grayson Perry picks up on one of his favourite issues, British identity and social class. It's better to view this in a separate window here.
---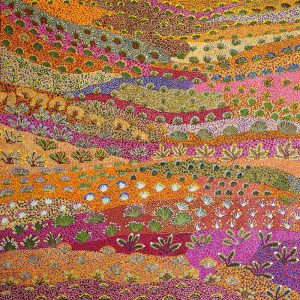 Julie Ngwamaye Morton 'My Country and Bush Medicine' Aboriginal Art (Image from Twitter)
How does an individual's experience of health care in their country of origin differ from the British NHS and social care services?
---
Nobukho Nqaba South African artist reGeneration3 This short film shows how an artist uses an everyday item to create a piece of art and tell a story.
What do you think when you see someone carrying a bag like the one in the film?
What object might you choose to tell your story?
---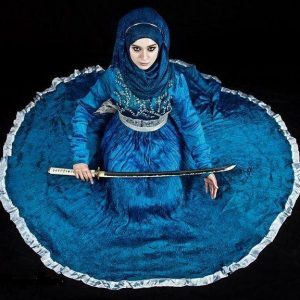 What can you discover about  Naziyah Mahmood's culture and who she is from this photograph?
Would you know from this picture that she is an artist, poet, astrophysicist, engineer, and martial artist?
---
Now think about these two pictures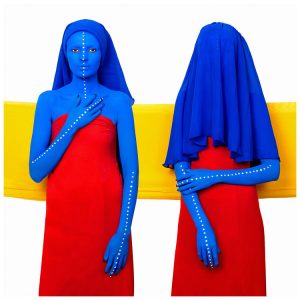 Discussing difference can be challenging and is not without risk. It can feel like you are taking a step into the unknown.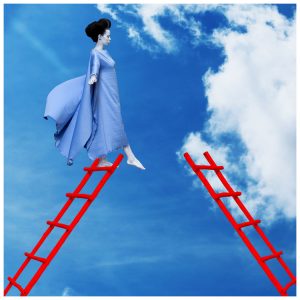 Aida Muluneh was born in Ethiopia, grew up in Yemen and UK, was educated in Cyrus, lived in Canada, studied at University in the US and then returned to Addis Ababa.
These pictures are part of her 'The World is 9' series
She says, living in Addis Ababa for the past nine years has been a lesson; 'a lesson in humility, and a lesson in what it means to return to a land that was foreign to me.'  
What image/piece of art/music/photo/sculpture/film/book might you pick to help someone else understand more about who you are? Why not try this as part of HDR or in a tutorial.
---
So how might you bridge the gap?
You might remember this from your childhood.
Getting to know you, 'The King and I' 1956
What cultural images from your childhood does this conjure up in your mind?
---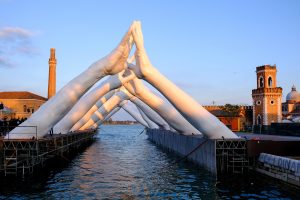 This amazing art installation in Venice was created by Lorenzo Quinn and is called 'Building Bridges'.
Each pair of hands represent one of six universally essential values – friendship, wisdom, help, faith, hope and love – the concept behind the project aims to symbolise people overcoming their differences to build a better world together.
---
What sort of bridge would you build, can you describe it?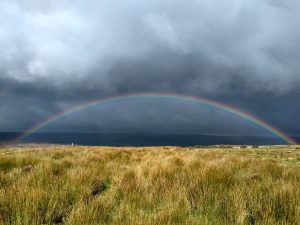 ---
Here is a selection of arts resources that have been created to 'edutain' about other cultures.  
---
Books 
Half of a Yellow Sun by Nigerian author Chimamanda Ngozi Adichie. Published in 2006 by Fourth Estate, the novel tells the story of the Biafran War through the perspective of the characters Olanna, Ugwu, and Richard. (is also a film)
The Spirit Catches You and You Fall Down 'A Hmong Child, Her American Doctors, and the Collision of Two Cultures by Anne Fadiman 2021 This is a masterpiece of research exploring how different cultures view the symptoms of epilepsy in childhood and 
Film and TV
Unorthodox on Netflix tells the story of a Hasidic Jewish woman who flees her native Brooklyn to live in Berlin.
---
Take a look at the section the lives of others for more resources
---