---
What is creativity and why is it important?
'Creativity' is making links between ideas to solve problems and make something new. It is about being open to viewing the world from different perspectives, it can exist in every aspect of human experience from making a sandcastle to formulating a novel treatment for cancer.
To be creative we first need to be curious and ask the question, "I wonder what would happen if".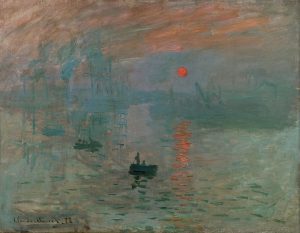 Monet asked himself this question when he painted Soleil Levant. "I wonder what would happen if I painted with less detail and fewer brush strokes". In doing this he created the first impressionist picture and a new genre of art.
Being creative is an essential part of what it is to be human. It is not something that is turned on and off like a switch, it is a way of seeing, engaging  and responding to the world.
Being creative is what differentiates us from other animals, we used iron to make tools, made fire, and created the wheel. Fulfilling our creative needs is as essential to wellbeing as shelter, food, sanitation, safety, educational and health. Being creative releases dopamine, the same neurotransmitter that drives us to find food and shelter. 
'To get the most out of any situation it is important to suspend judgement. Judgement and creativity are two different processes. Defer forming opinions or jumping to conclusions until the end of the process.' Rod Judkins
Whatever your thoughts are about the use of the creative arts for health and wellbeing suspend your judgement for a moment and read on.
More about the arts for health and wellbeing
Thousands of years ago Neanderthal man created art in their cave dwellings.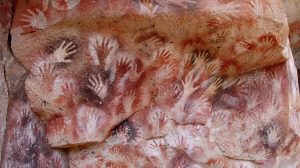 Using the creative arts for health and wellbeing has been established practice for thousands of years. It is only recently that studies have been set up to seek evidence to support this - and the evidence is overwhelmingly positive.
Daisy Fancourt's book "Arts in Health' is a great summary of current evidence.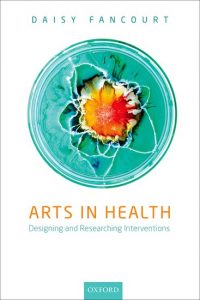 The use of the arts for health and wellbeing is supported by The 2017 UK Government's All-Party Parliamentary Group Report 'Creative Health; The Arts for Health and Wellbeing'. The report includes comprehensive evidence and numerous examples of practice that demonstrates the beneficial impact of the arts in health and wellbeing. It recognises how arts-based approaches can help people to stay well, recover faster, and experience a better quality of life.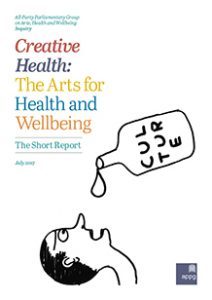 ---
The creative arts can be used in many ways to promote health and wellbeing
---
To improve staff wellbeing and development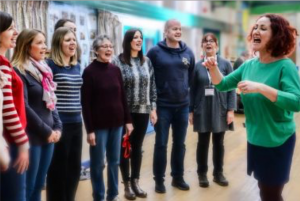 This is a picture of the 'Wellbeing Choir' run at York Hospital and Scarborough Hospital  by Nicola Betts.
Many organisations have staff wellbeing activities- take a look at what is going on in your workplace.
Could you set up an activity to benefit the wellbeing of your colleagues?
---
To improve the environment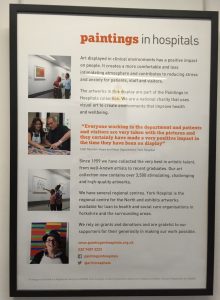 Art displayed in the clinical environment has a positive impact on people. It creates a comfortable and less intimidating atmosphere and contributes to reducing stress and anxiety for patients, staff and visitors.
'Paintings in Hospitals', a national charity, is now in its 60th Year. Its collection contains over 3500 stimulating, challenging and high-quality works of art.
Take a look at the display in your local hospital.
How does this help the health and wellbeing of staff and patients?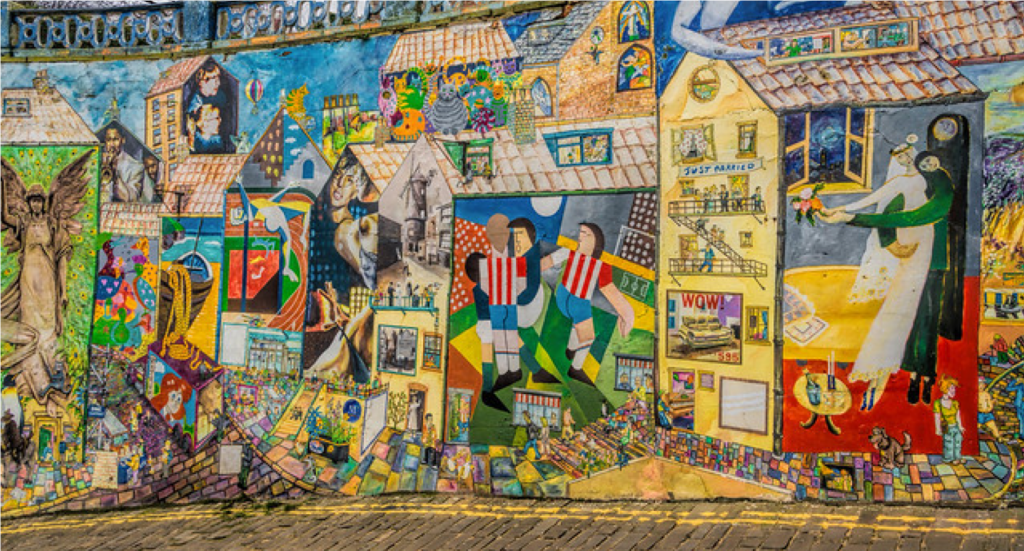 This is street art in Scarborough.
What is happening in your work or neighbourhood to improve the environment?
---
 To deliver health outcomes through participatory arts programmes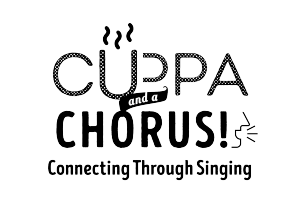 'Cuppa and Chorus' is hosted by the National Centre for Early Music and Explore Libraries, in conjunction with Age Concern and Converge. The monthly singing session encourages people to engage in a cultural activity with the aim of reducing social isolation.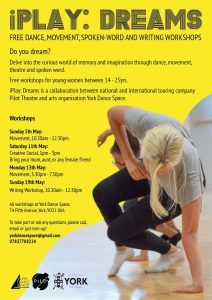 'iPlay dreams' is a collaboration between  Pilot Theatre and arts organisation York Dance Space. iPlay aims to use drama and movement to improve mental health and well-being of young women between 14 and 25.
These are local examples, take a look at what is going on in your communities that may benefit your health and wellbeing and that of your patients.
---
 To deliver health outcomes through technology-based arts activities
There are numerous projects using technology to help ease the symptoms of chronic disease. These are two projects: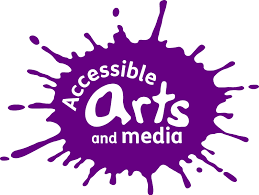 iMUSE is a 1-to-1 therapeutic multi-sensory experience that helps reduce the symptoms of anxiety.
Take a look at Music for Dementia 2020 and read about their plan to enable suffers of dfemtia to have personal play lists of music to help alleviate the agitation and anxiety associated with dementia. 
---
To challenge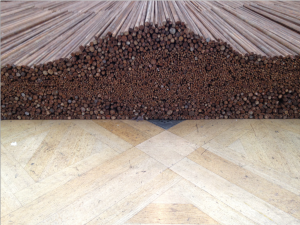 This art installation is called 'Straightened'
It was created by Ai Wei Wei.
In 2007 several thousand school children died when the Schezwan earthquake destroyed local schools. The buildings collapsed because they were not built correctly. Ai Wei Wei collected all the damaged steel girders that supported the buildings and  straightened each girder.  The straightened bars were displayed alongside the names of all the children who lost their lives. 
Ai Wei Wei's work challenged the Chinese government to consider whether their building regulations were appropriate.
Ai Wei Wei has been imprisoned for creating his art.
---
For psychotherapy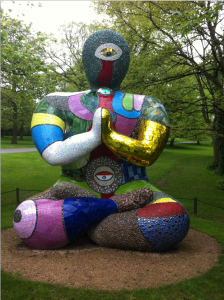 Art can be used by trained art-therapists to help patients understand and manage long term mental and physical health problems.
This book is an interesting read about art as therapy.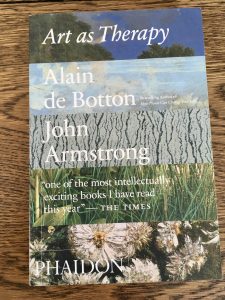 ---
For expressing the experience of health and social care service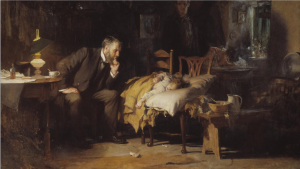 Have you ever recieved a thank you card from a patient or sent a thank you card to a colleague?
Luke Fildes was so impressed with the care provided to his son by the doctor he was inspired to paint this picture. It was commissioned by Henry Tate and hangs in The Tate in London. 
Can you think of other art that has been created to express the experience of being a patient.
The catalyst for many of the resources on this website has been the experience of illness and being a patient.
---
For general health benefits using everyday arts activities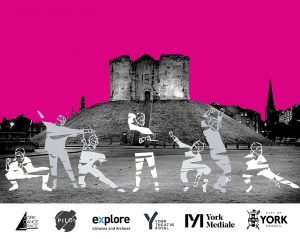 Many of us regularly take part in creative arts activities; sewing, reading, singing, painting, photography, cooking, dance. 
You may not be aware of the beneficial impact of taking part on your health and wellbeing.
---
For public health engagement and education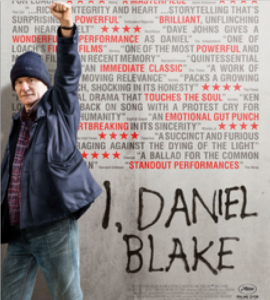 This is just one example of how art can be used to educate, inform and change perception.
When Ken Loach directed this film, he created something more than a drama to entertain. 
The arts resources on this website are intended to be of interest but also to engage, educate and change perspectives.
---
Questions to develop your learning and to use in tutorials
---
What do you do to maintain your health and wellbeing?
These images were taken from posters created by GP trainees at our 2019 Creative Forum- arts for health and wellbeing.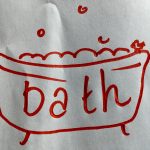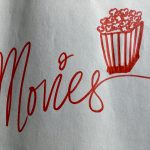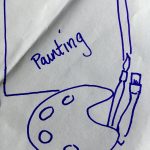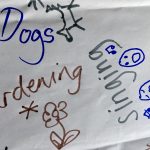 What activities might help your patient's health and wellbeing?

These activities include sport, exercise and meditation - also great for our health and wellbeing because they activate the parasympathetic nervous system and release endorphins.
Offering holistic, person centred care involves helping your patient find ways of improving their health and wellbeing through non medical treatments.
These questions might help:
"What did you used to do that you enjoyed?"
"Can you restart this or is there an activity that would give you the same sense of wellbeing that you can do now?"
---
What activities are available in your community to support health and wellbeing?
Is there a role for GPs to signpost patients to community-based activities that help their health?
---
The new GP contract
Do you know what social & cultural prescribing is?
Can you access this in your area?
---
Why not use tutorial time to visit a community-based project or a lecture?
---
If you want to explore more about creative thinking these books are great:
The Art of Creative Thinking Rod Judkins (2015) Published by Sceptre Books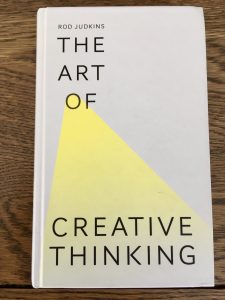 How to Steal Fire Stephen Bayley and Roger Mavity (2019) Published by Penguin Books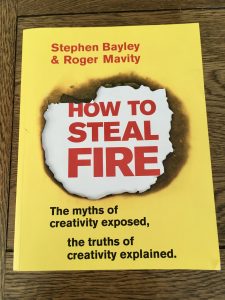 ---
Our Creative Forum
---
In York we use the creative arts to help GP trainees learn about general practice and develop skills to survive and thrive at work.
These photos and a short film are from our recent 'Creative Forum' where we learnt about the power of the creative arts for health and wellbeing.
These may give you ideas for what might work for your teaching.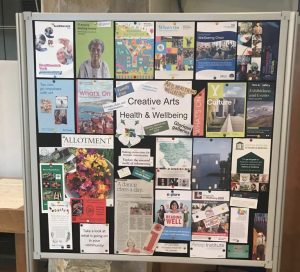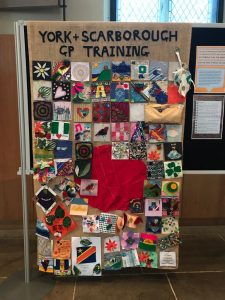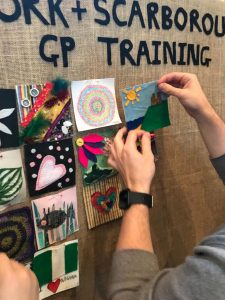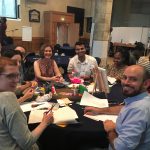 At the end of the day the trainees felt: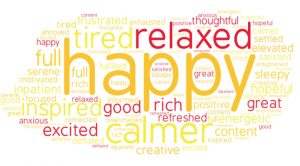 What a great way to feel.
Film coming soon
---
Page created 5th July 2019