---
We all age.
Ageing is not a disease, but it bring about changes in health and wellbeing.
The need to adapt to the changes caused by ageing is universal, for patients and their doctors.
Use these resources to consider the impact of ageing on an individual's health and wellbeing
---
Pictures
---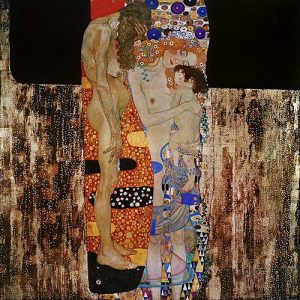 The Three Ages of Woman Gustav Klimt
Take a look at these wonderful photographs by Arianne Clement The Art of Aging
---
Books
---
The Seven Ages of Man, by William Shakespeare from 'As you like it'.
A Man Called Ove Fredrik Backman
Being Mortal Atul Gawande
---
Music
---
Seven Ages of Woman - BBC Radio 3 commission
World premiere recording of a work in seven movements by seven composers, each representing her own decade, and what it means to her to be a woman in 2020. A multi-generational piece of music in a journey from the optimistic entry into the adult world, to motherhood, to achievements in science, to the serene image of trees when their leaves have fallen, revealing the humanity underneath.
Sung by the BBC Singers
Recorded at St Peter's Eaton Square, London on 27 February 2020
Listen and read more onBBC Sounds
---
Films
---
The Curious Case of Benjamin Button (2008)
The film adaptation of Shakespeare's King Lear
---
Poems
---
The Old Fools by Philip Larkin
What do they think has happened, the old fools,
To make them like this? Do they somehow suppose
It's more grown-up when your mouth hangs open and drools,
And you keep on pissing yourself, and can't remember
Who called this morning?
You can find the whole poem easily on line.
---
Many illnesses are associated with ageing for example, dementia, Parkinson's disease, and cancer, resources for these specific conditions can be found in the 'a to z' resource page.
---
Remember,
'You are never too old to set another goal or to dream a new dream.' C.S. Lewis
---
created 9th March 2020